DON'T MISS OUT on this INCREDIBLE Collection of VALUABLE Coins and Collectibles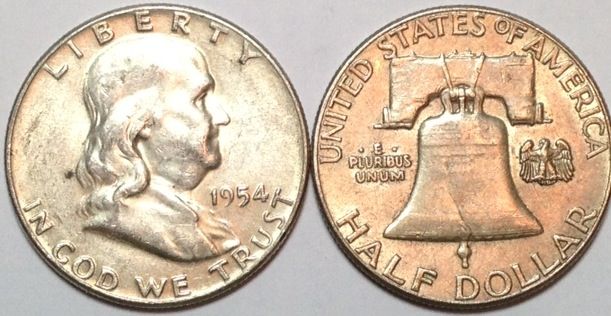 Beloved by Collector's since it's first Mintage, the Franklin half dollar was struck by the US Mint from 1948 to 1963. The fifty-cent piece pictures Founding Father Benjamin Franklin on the obverse and the Liberty Bell on the reverse. A small eagle was placed to the right of the bell to fulfill the legal requirement that half dollars depict the figure of an eagle. Produced in 90 percent silver with a reeded edge, Ben Franklin became the fifth person and first non-president to be honored by the issuance of a regular-issue US coin, after Lincoln, Roosevelt, George Washington and Thomas Jefferson.
A 100+ Year Old

INDIAN HEAD CENT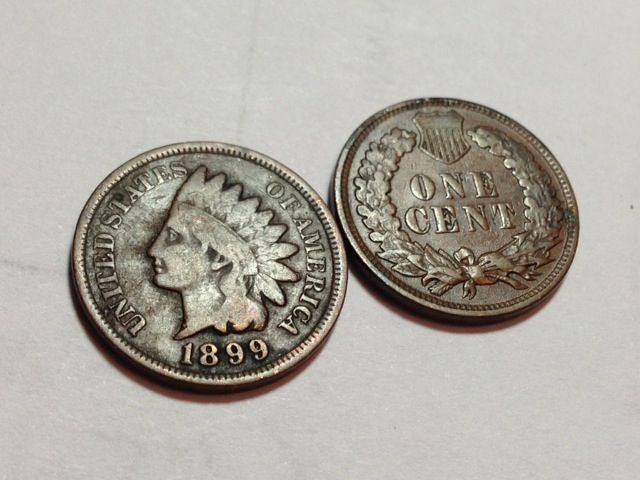 A Must for Any Coin Collection
This beautiful coin has an image of the famous "Liberty Head" wearing an Indian head-dress. Minted for over 60 years, the popular "Indian Head" Cent is now in scarce supply and found mostly in private collections.
This ALL TIME CLASSIC COIN is over a CENTURY OLD and belong in your collection!
A 40% SILVER
KENNEDY HALF DOLLAR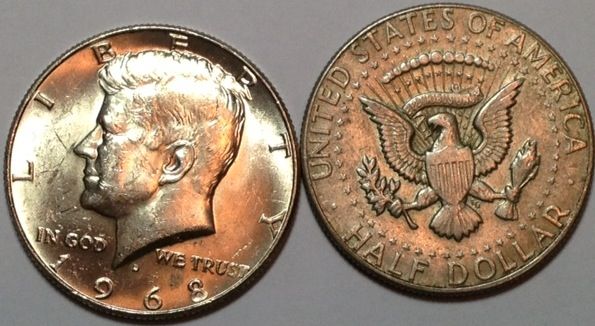 The Kennedy half dollar, first minted in 1964, is a fifty-cent coin currently issued by the United States Mint. Intended as a memorial to the assassinated President John F. Kennedy, it was authorized by Congress just over a month after his death.
Extremely popular and collected and hoarded, the coin would see several transformations. The Coinage Act of 1965 would change it from 90% to 40% Silver Content.
Despite the proclaimed end to the coin shortage, Kennedy half dollars circulated little, a scarcity caused by continued hoarding and a dip in production, with the Treasury reluctant to expend more of the nation's silver holdings on a coin which did not circulate.
An excellent investment and classic addition to your collection.
AN EISENHOWER DOLLAR COIN
President Nixon signed a bill on December 31, 1970 which authorized the Eisenhower dollar and eliminated silver from the half dollar, the last remaining US silver coinage. The Eisenhower dollars were struck to commemorate, WWII General and then President, Dwight D. Eisenhower, who died in 1969, and the Apollo 11 moon landing of the same year. It was annually minted for only eight years from 1971-1978. Historic in both it's front and back images, as well as for it's notable size and weight. It would prove of exceptional use for the growing gaming community as a token.
A JEFFERSON PROOF NICKEL
The Thomas Jefferson nickel replaced the Buffalo in 1938. This long lived classic of US Coins has seen several commemorative issues, and was even minted with silver for a period of time.
A SILVER JEFFERSON WAR NICKEL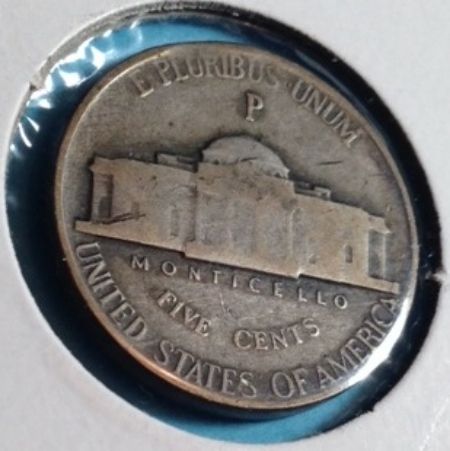 With the entry of the United States into WWII, nickel became a critical war material, and the Mint sought to reduce its use of the metal. In the hopes of making them easy to sort out and withdraw after the war, the Mint struck all "war nickels" with a large mint mark appearing above Monticello. The mint mark P for Philadelphia was the first time that mint's mark had appeared on a US coin.
One 100+ Year-Old LIBERTY HEAD "V" NICKELS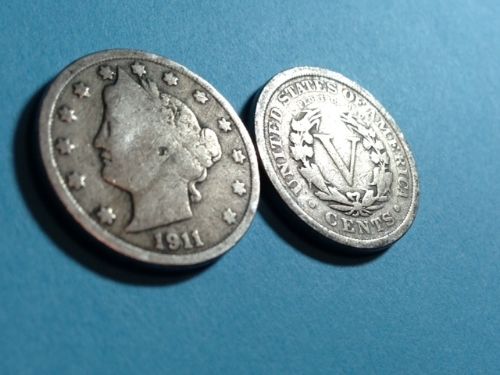 The Liberty Head Nickel is often called a "V" nickel because of the large Roman numeral for five(V) in the center of its reverse side. It was struck for circulation from 1883 until 1912. The Liberty Head Nickel in this lot, still bears the distinctive "V" on the reverse side, and will make a very interesting and necessary addition to your own collection.
A BLUE OPA RATION TOKEN
FROM WORLD WAR II
OPA stands for Office of Price Administration Rationing was started in 1942. Items that were rationed include canned goods, meats, sugar, coffee, tires, gas and more. The Office of Price Administration used OPA stamps, coins and chits for rationing. OPA coins (commonly called OPA's) were used for change for food. Increasingly scarce, a very interesting addition to your collection.
One FULL DATE BUFFALO NICKEL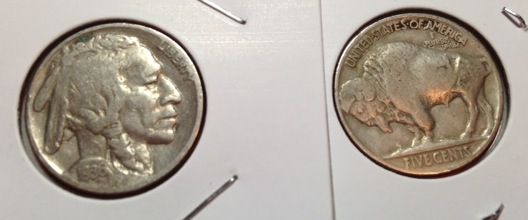 The WORLD FAMOUS "BUFFALO" NICKEL was produced from 1913 all the way to 1938 and has been a FAVORITE OF COLLECTORS ever since. The Buffalo's raised date-placement caused many of them to become unidentifiable after just a few years and therefore, of no collectible value. However, the Nickel in this collection is a VALUABLE FULL DATE SPECIMEN and will make a wonderful addition to your coin collection.
A Classic LINCOLN WHEAT CENT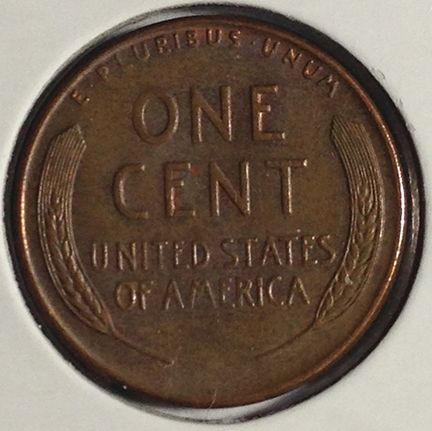 Highly Anticipated from it's first minting in 1909, these new "thicker" copper pennies, bear the image of the late President Abraham Lincoln on the obverse, with distinctive grains of wheat on the "one cent" reverse
These coins only increase in value, a vintage copper penny is a must for any collection!
A LINCOLN MEMORIAL PROOF CENT

Proof coinage means special early samples of a coin issue, historically made for checking the dies, and for archival purposes. Usually double struck, with a mirror like deep detail.

AN AUTHENTIC

GOLD LAYERED

PROOF STATE QUARTER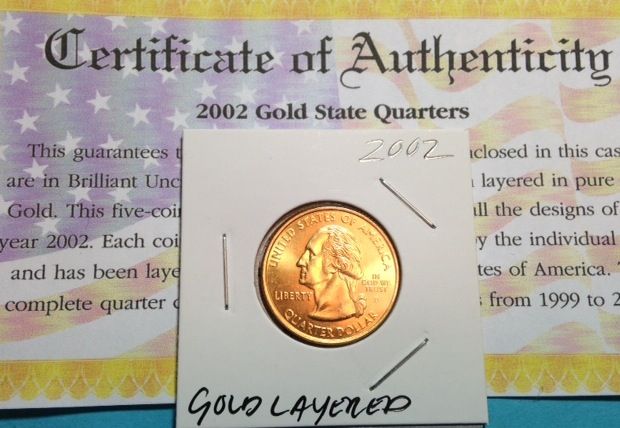 This Gold Layered Coin was broken out of a Proof Set and then carded. It is from the "Statehood" Commemorative Quarter Series and comes with a copy of the Certificate of Authenticity that came with the proof Set. You will enjoy adding this Unique and Valuable Coin to your Collection!!!
A WASHINGTON PROOF QUARTER

The Washington Quarter replaced the Standing Liberty when it was first minted 1932, with many commemoratives, and obverse variations, it is a true collectors paradise.
A ROOSEVELT PROOF DIME

An increasingly collectible coin, whether through FDR's creation of the March of Dimes, or maybe it's place as the only coined dime to be removed from silver composition, or even it's distinctive yet reminiscent, symbolic reverse, make this coin today's catch.
A STEEL WHEAT CENT
FROM WORLD WAR II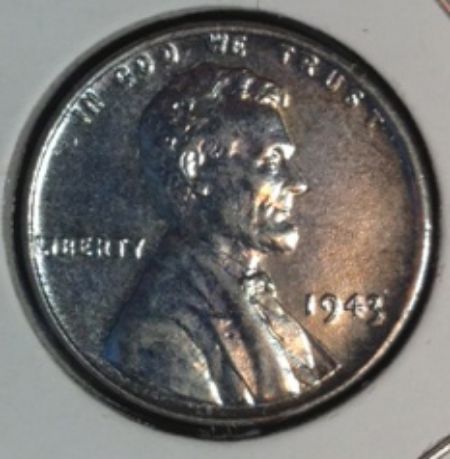 With Copper being in such high demand during the War effort, the United States Cent was minted for the First and only time in Steel. These coins are becoming more and more difficult to find in decent shape due to both their collectible nature, as well as the corrosive nature of the steel itself.
A RED OPA RATION TOKEN
FROM WORLD WAR II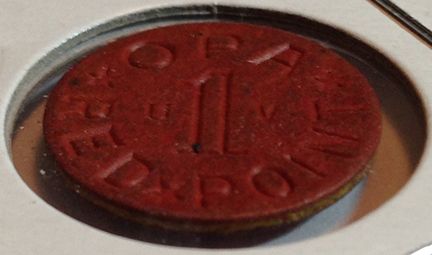 These tokens were given as change for the war rations that Americans were under, during World War Two. Increasingly scarce, a very interesting addition to your collection.
A 90% SILVER ROOSEVELT DIME
Soon after the death of President Franklin D. Roosevelt in 1945, legislation was introduced that called for the replacement of the Mercury dime with one bearing Roosevelt's image. The dime was chosen to honor Roosevelt partly due to his efforts in the founding of the National Foundation for Infantile Paralysis (later renamed the (March of Dimes), which originally raised money for polio research and to aid victims of the disease and their families. The public had been urged to send in a dime to the Foundation, and by Roosevelt's death, the Foundation was already popularly known as the "March of Dimes."
This coin was minted in 90% silver up until 1965, an excellent addition to your collection.
AN AUTHENTIC
PLATINUM LAYERED
PROOF STATE QUARTER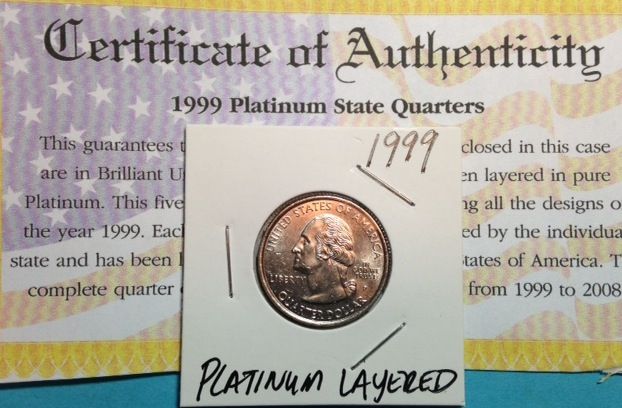 This Platinum Layered Coin was broken out of a Proof Set and then carded. It is from the "Statehood" Commemorative Quarter series and comes with a copy of the Certificate of Authenticity that came with the proof Set. You will enjoy adding this Unique and Valuable Coin to your Collection!!!
A KENNEDY HALF DOLLAR PROOF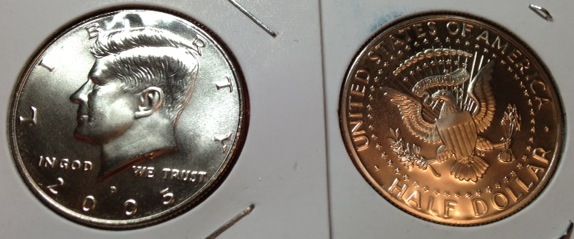 Conceived within hours of the Kennedy assassination, this replacement for the Franklin Half Dollar remains the lowest minted of US coins. The Kennedy half dollar has gone from 90% silver to 40% silver to copper-nickel clad, with several design changes to the reverse, for bicentennial.
Hoarded by the public since it's first minting. Enjoy this spectacular Kennedy Proof
A VINTAGE SILVER
WASHINGTON QUARTER
As the United States prepared to celebrate the 1932 bicentennial of the birth of its first president, George Washington, the Standing Liberty Quarter was replaced with the Washington Quarter. The quarter was minted in 90% silver until the Coinage Act of 1965, when it was switched to a copper-nickel composition.

An All time American Classic Silver Coin

VALUABLE SILVER CONTENT

An Excellent addition to your collection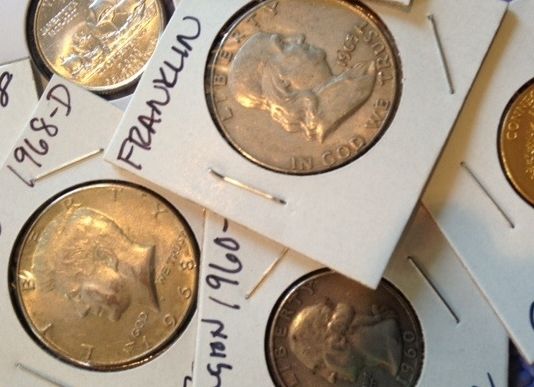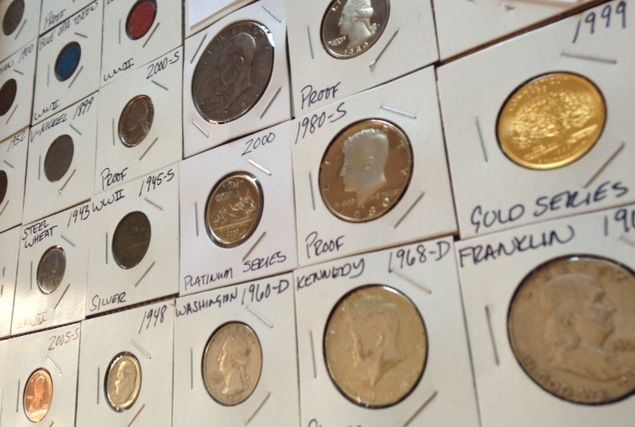 DON'T MISS OUT ON THIS INCREDIBLE COLLECTION!!!
PLACE YOUR BEST BID NOW!!!